Seafood restaurant "KOUDAYU" reopen from Lunch time on June 1st.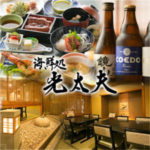 Thank you very much for your continuous support to seafood restaurant "KODAYUU".
In response to Lift a state of emergency on May 25th, we will re-open the restaurant from lunch on June 1st.
For the re-opening, we are taking the necessary actions for the guest safety and to prevent the further spread of the coronavirus.
We will let you know when we are forced to re-closed by any emergency situation, such as state-of-emergency declaration.
We appreciate your understanding and cooperation.
*Seafood restaurant "KODAYUU" is operated by a tenant.
If you would like to book "KODAYUU", please feel free to call the following number directly.
Tel: 049-226-9106