Smoking is prohibited inside of Kawagoe Daiichi Hotel except in smoking rooms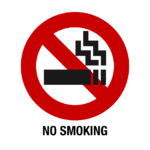 Thank you for staying at Kawagoe Dai-Ichi Hotel.
To lower second hand smoking risks, national legislation which banned smoking inside of public facilities has been approved and it's effective since April 1st.
At Kawagoe Daiichi Hotel, Smoking is allowed only in smoking rooms and designated smoking area which is outside.
We kindly ask for your understanding and cooperation.