【Okinawa Cuisine in Kawagoe City】OISHII JIKAN in wakita hon-cho, Kawagoe City
*This article is originally posted in Japanese site on July 8th, 2019.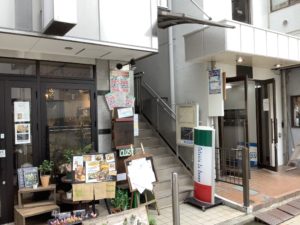 This time's Walk is Okinawa cuisine "OISHII JIKAN# located in West Exit of Kawagoe Station. From the west exit to the restaurant is 2-minute walk. The building of the restaurant has a flower shop and café "KAKARA" at 1F, Italian restaurant "La Bouno" at 2F and "OISHII JIKAN" at 3F.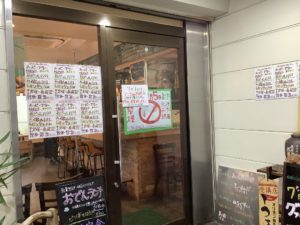 You will see the entrance after up to 3rd floor.
Please be careful, there is no sign of "OISHII JIKAN" outside of the building, if you go there…
The standing sign bord of the restaurant is at the first floor entrance though, It also tend to be overlooked.
Inside of the restaurant is wide, open and relaxed atmosphere. For groups or solo, either way is good.
This is lunch menu. You can enjoy Okinawa cuisine with affordable prices.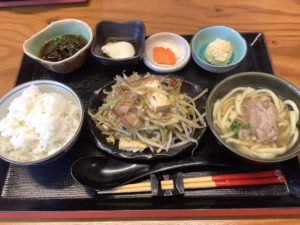 This is "OKINAWA set", JPY1,200.
Stir-fried vegetables with GOYA (bitter melon)
Jimami-dofu (Okinawa peanut tofu)
Vinegared mozuku seaweed
Side dish (kobachi)
Soki soba (Okinawa Soba)
Rice
A sufficient amount, I'm full!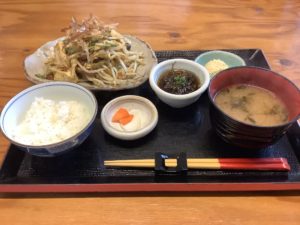 This is "Champuru Set (Okinawan stir-fry dish)", JPY800.
Compared with "Okinawa Set", you can eat more vegetables.
The taste of Champuru goes well with rice.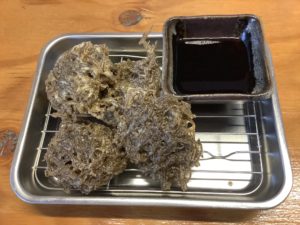 Additional order is Mozuku seaweed Tempura.
Speaking of Mozuku seaweed, we imagine "Vinegered Mozuku seaweed". I didn't know the tempura! Crispy and tasty with a sauce or salt!
When taking pictures, the restaurant staff asked "please take a picture for Dinner menu, too!".
Please check it.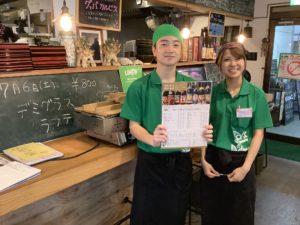 You can taste Okinawa Cuisine fully, Osashimi, Mozuku seaweed, Umibudo (green algae, green caviar), Jimami-dofu (Okinawa peanut tofu), Goya Champuru at "OISHII JIKAN". Dinner time is also recommended.
Our hotel is located in Kawagoe east exit and OISHII JIKAN is in west exit though, please try.
"OISHII JIKAN" Information
Location: KJ DAINI building 3F, 6-31 Wakita hon-cho, Kawagoe City
(Flower café "KAKARA" is at 1F of the building)
Open: 11:30 to 14:30 (L.O. 14:00) / 17:00 to 23:30 (L.O. 22:30)
Holiday: Mondays