Luxury Lunch once in a while! at Japanese restaurant Madoi.
Introduction of seats and tables at Japanese Restaurant "Madoi"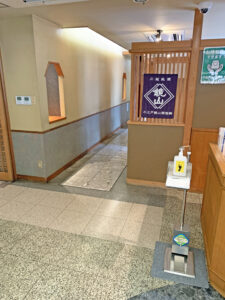 Let me introduce my Luxury Lunch once a month?! at Japanese restaurant Madoi.
When visiting on 28th September around 13:30, the comfortable background music by piano was being played there.
Seats customers use are all private rooms except for a banquet room.
Some people or others come around 11 am and stay there until 3 pm after lunch with enjoying the meal and chatting.
During peak hours,,, well, well, well.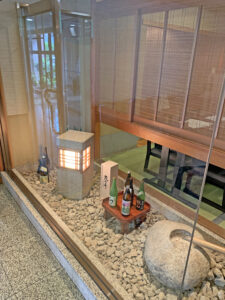 Sake is decorated at the entrance floor.
Due to the state of emergency and preventive measures, we are not allowed to serve any alcohols to customers at the moment I'm writing this article on September 28th.
However, the situation might be changed after October, if the regulation is released.
Please don't worry. Prevention measures with sanitizing things and setting partition are all done as usual.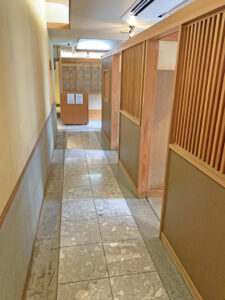 After a body temperature check and sanitizer, went to a seat.
From the front entrance, 3 private rooms of table are on the right-hand side.
At the corner, 2 tatami rooms are on the left-hand side.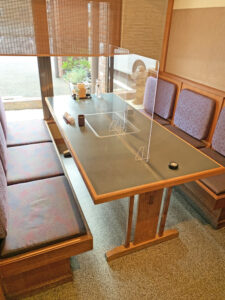 This is a private room of dining style that you can relax.
This is my place for Lunch today.
The table for 6 people is used as 4 people just in case to keep distances at the moment.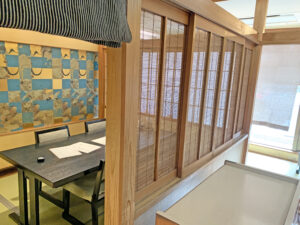 At the corner, there is a table in tatami mat room, good for gathering for introduction of partners or memorial commemorate.
Of course, usual meals are fine as well.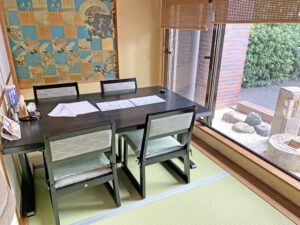 This is also a dining style table.
There is no garden site though, the wide window helps us being relax and enjoy meals.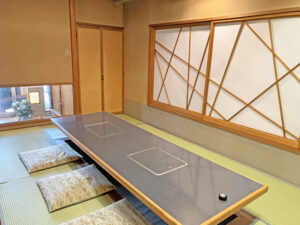 There is a private room of digging type called "Horigotatsu(Sunken kotatsu)" for 6 people. Next to this room is also same style room.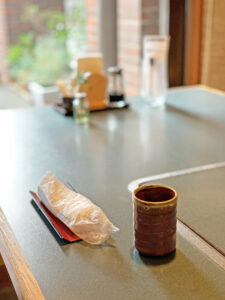 Back to my table and had a cup of green tea for taking a break.
I ordered Nigiri Sushi. I'm exciting!
Chef's special sushi (Nigiri) of Japanese restaurant "Madoi"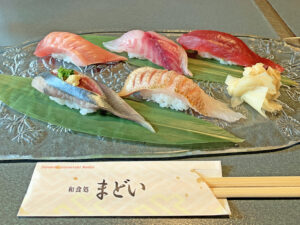 After about 10-miniute waiting,
Chef's special sushi (Nigiri) of Japanese restaurant "Madoi" From the top left Medium Fatty Tuna, Grunt and Flesh Red Tuna.
Then, the ones in front of them are Saury Fish and Shore Dotterel(seabass)
How wonderful ,,,It's too good to be eaten.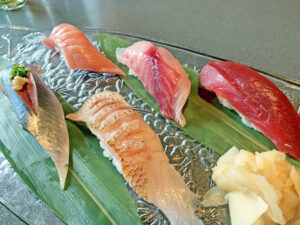 The different angle.
Personally speaking, I like Shore Dotterel(sea bass) better.
Its surface turns golden in color with being broiled, that whets my appetite!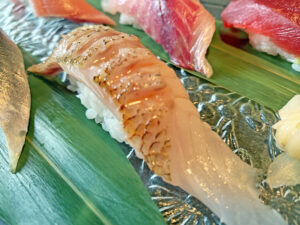 The taste is like a salmon but not so heavy. Anyhow, after eating it, my mouth is full of juicy shore dotterel.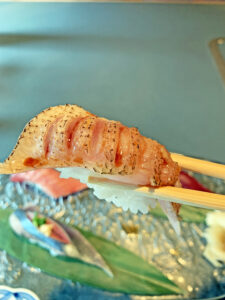 Strongly recommend this!! I'm sure once you eat it, you want to eat it again.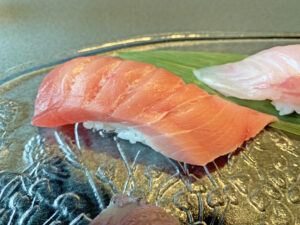 Next one is "Medium Fatty Tuna". When it comes to Sushi, nothing is better than "Medium fatty tuna". Initially, I ordered 2 rolls of "Medium fatty tuna". But changed my mind by worrying about the total bill to just 1:)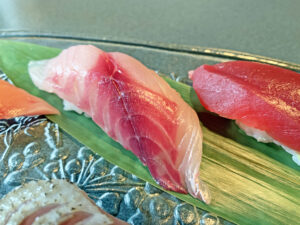 Then "Grunt" is mild flavor of whitefish and we can enjoy as a nice supporting role of Sushi.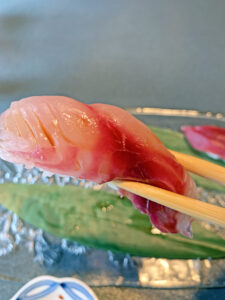 Also, it is popular ingredient in Italian cuisine as carpaccio or aqua pazza.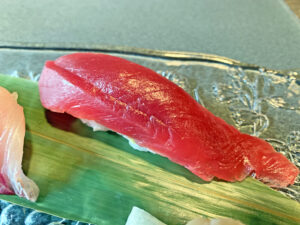 Flesh Red Tuna is also one of basic topping that people tend to order, such as "Just flesh red of tuna for now, please."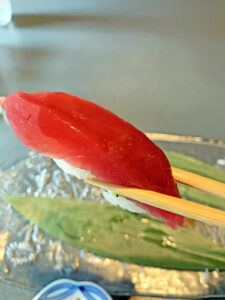 Rich taste!
Wanted more! But stopped that because it is not budget-friendly…
Lastly, "Pacific Saury"
The season is coming.
It is delicious, not only salt-grilled one but also Sashimi .
The thickness and deep taste made me feel bountiful fishing of autumn.
Chef really recommended its freshness and quality.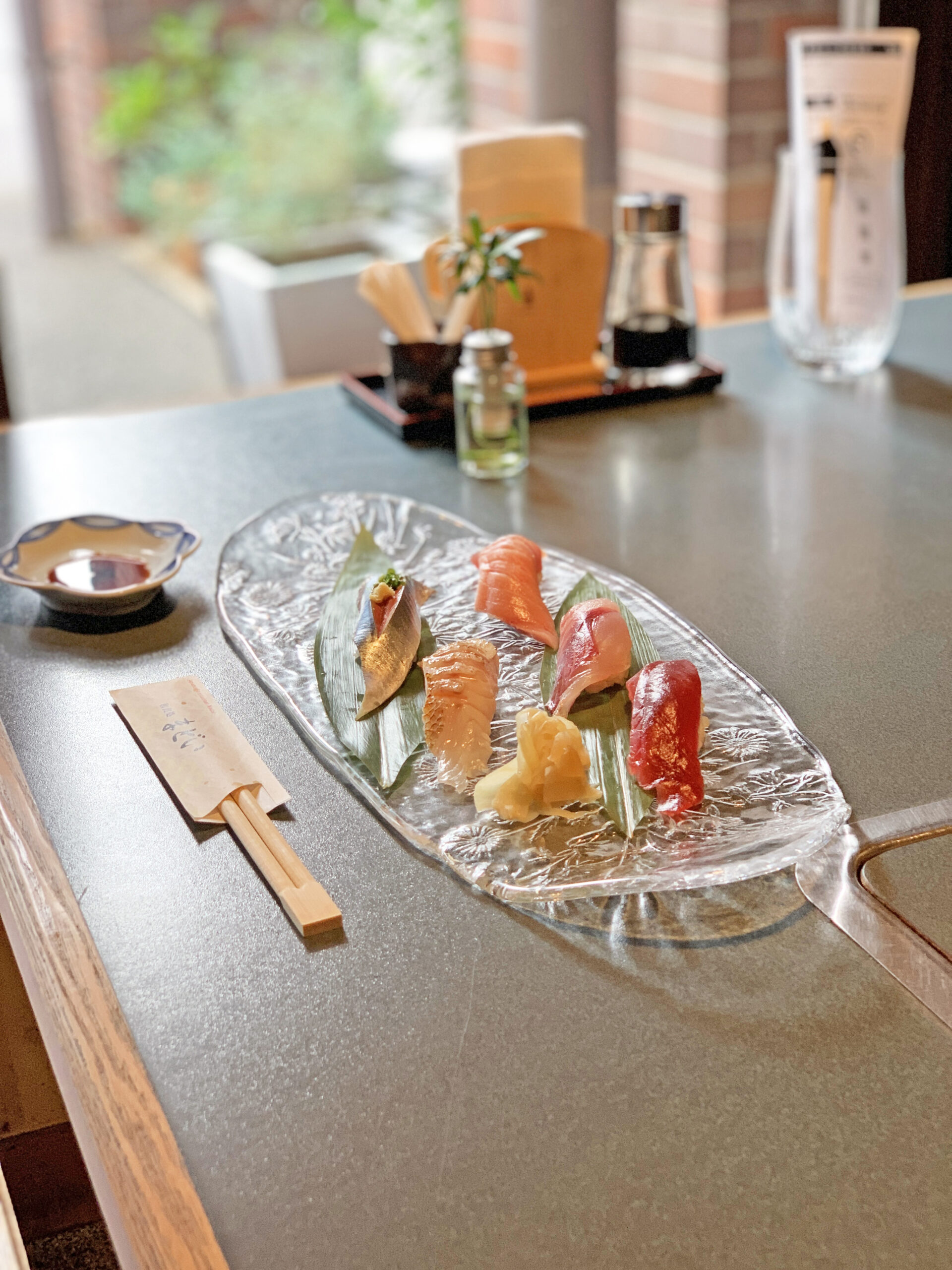 How was that?
I enjoyed the tasty sushi in a private room.
Shore Dotterel(seabass) JPY500
Medium Fatty Tuna JPY600
Grunt JPY400
Pacific Saury JPY300
Red Fresh Tuna JPY300
==================
The total is JPY2,000 (Tax included)
■Japanese Restaurant "Madoi"
Kawagoe Daiichi Hotel 1st Floor
7-34 Sugawara-machi, Kawagoe City
TEL:049-299-5366 FAX:049-299-5367
URL https://madoi-kawagoe.com/