Kawagoe Walk 'Kawagoe Taishi, Kita-in temple' –Kosemba-machi, Kawagoe City,
*This article is originally posted in Japanese site on Februrary 11th,2019.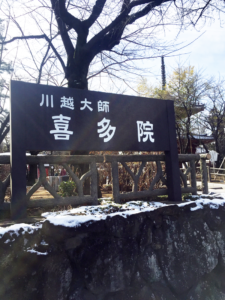 This time's Kawagoe Walk is 'Kawagoe Taishi, Kita-in Temple, (generally called 'Kita-in Temple), located in Kosemba machi, Kawagoe City, and 17-minute walk and 10-minute by car from our hotel.
Walking from our hotel to the temple is available.
Most of the buildings in Kita-in are designated to Important Cultural Property and valuable art works are owned.
Many people visit here for Daruma Festival on 3rd January, Setsubun(February), Naga Tsuki Goma Kodo, Shichi-go-san, or the Seven-Five-Three Ceremony(October to November), and Kiku-Festival(November).
Also, Kita-in is one of the seven mysteries course.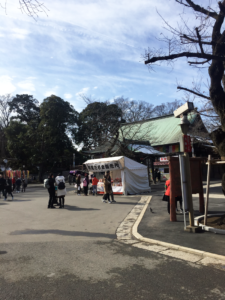 In front of Kita-in main hall and Jikei-do, food stalls and other shops line. But on this day, few stalls opened as no events held.
Daruma stalls are there. Venders for Ama-sake or snacks are also inside the temple grounds.
Although not so many people came there on this day, for Hatsumode on new year's holidays, estimated about four hundred thousand people visit to the templce.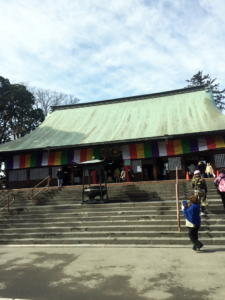 This is Jikei-do which is Hondo (main hall) of Kita-in. Inside of the place, Goma-taki is held for Hatsumode.
Many sightseeing guides pick up this picture of 'Jikei do', some people who have heard the name of Kita-in might know the Jikei do.
Many visitors took pictures of landscapes and commemorative photos. Foreign visitors as well.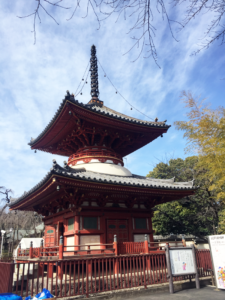 Tahoto Tower is the impressive red building and designated to Important Cultural Property by Saitama Prefecture.
Originally, Taho-to was built between Hakusan Gongen and Hie Shrine which located in front of Sammon Gate. After 2 times moving, it is built diagonally in front of Hondo(main hall) now.
Please visit the place when coming Kawagoe!
Kita-in temple
Address:1-20-1 Kosenba-machi,Kawagoe-shi