Kawagoe Walk 'Naritasan Kawagoe Betsuin Temple -Kawagoe City, Kubo machi
*This article is originally posted in Japanese site on 16th February, 2019.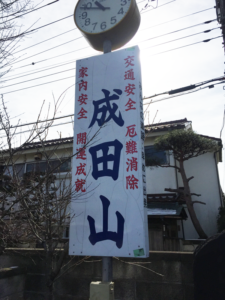 This time, Kawagoe Walk is Naritasan Kawagoe Betsuin Temple. Official name is 'Naritasan Kawagoe Betsuin Temple Hongyo in' which is long. The short version is Kawagoe Fudo.
It is located near Kita in temple (previously introduced) and about 20-minute walk from Kawagoe Daiichi Hotel.
Also, one of the seven mysteries course.
On this day, it was chilly just as the beginning of February is. But please enjoy the pictures.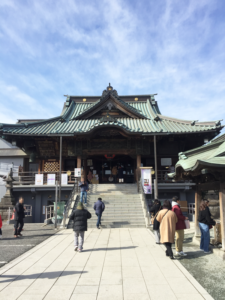 This is Hondo of Kawagoe Betsuin Temple
An antique market is held on the 28th of every month. On December, Hiwatari Festival is also held and crowded by many visitors.
The antique market opens from 5 am to 4 pm. Almost 100 shops sell antique items or gadgets. Some shops have too many items and sell them outside of the temple.
The temple is crowded with many shops and people looking for rare items!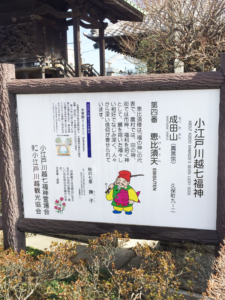 Hiwatari Festival is held on 23th November every year. Yamabushi (mountain priests) use firewood instead of people's desire and fire the firewood. People walk on the burned firewood by bare foots.
Don't anxious about burn. Basically, people walk on the tatami-mat above the burned firewood. But still it' hot… some people run over the mat, others walk with tiptoe steps.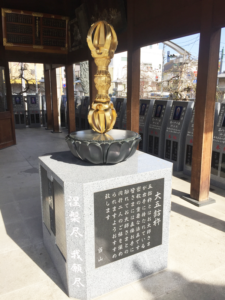 People say that touching O-gogosho or Dai gogosho (Buddhist Tool) makes deeper relationship with the great religious leader 'Taishi'.
Please touch this golden shiny Buddha tool, when you visit Naritasan and makes deeper relationship with Taishi sama.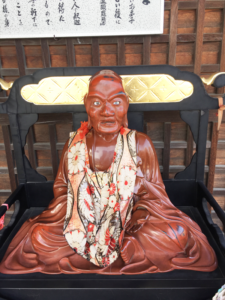 After walking up Naritasan Betsuin Hondo, 'Obinzurusama' (one of Buddha 's pupil) is sitting on right side.
According to legend, rubbing 'Obinzuru sama (Piṇḍola Bhāradvāja)' can avoid diseases.
It looks scary, but have supernatural powers.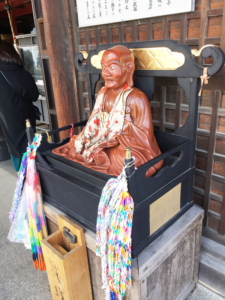 Obinzuru-sama used too much supernatural powers for human. Buddha was angry about that and didn't admit Nehan (Nirvana). After the Buddha's death, Obinzuru-sama still didn't stop saving people.
Despite of scary face, Obinzuru sama seems to have warm feelings for others…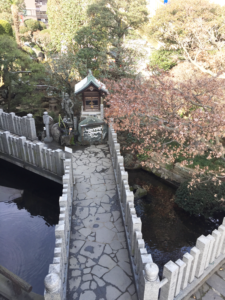 Look down from Obinzuru sama, there is a moat.
We watch-d the moat if any fishes there. There were no fish for the cold.
Around this time(February), trees has no blooms and looks a little bit bleak. When spring comes, fresh green leaf will sprout and the landscapes dramatically change.
How was today's Kawagoe Walk 'Naritasan Kawagoe Betsuin'?
Please drop in the place when you come to Kawagoe.
Access to Naritasan Betsuin and map
About -minute walk or -minute ride from Kawagoe Daiichi Hotel
Naritasan Kawagoe Betsuin Temple
Location: 9-2, Kubo machi, Kawagoe City, Saitama Prefecture
Phone: 049-222-0173